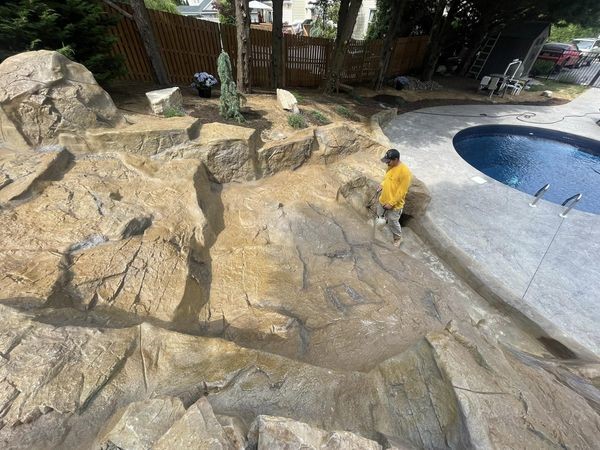 As a contractor, you know that staying ahead in the competitive world of outdoor construction

requires innovation and top-notch products. That's why ClifRocks Authorized Installer Program
is your key to unlocking opportunities and taking your business to new heights. Let's
explore the benefits of being a part of this exclusive program.
1. Access to Cutting-Edge Technology: ClifRocks Panel Masonry System is a game-changer
in the industry. As an Authorized Installer, you gain access to this modern technology, allowing
you to create stunning outdoor features with ease and efficiency. The lightweight panels and
innovative construction techniques enable you to complete projects faster, delighting your
clients with swift and exceptional results.
2. Differentiate Your Business: In a crowded market, setting your contracting business
apart is essential. By joining ClifRocks Authorized Installer Program, you distinguish yourself as
a trusted partner, capable of delivering high-quality outdoor spaces using state-of-the-art
products. This unique offering sets you apart from competitors and attracts clients seeking
innovative solutions for their outdoor living needs.
3. Comprehensive Training and Support: We believe that your success is our success.
That's why our program includes specialized training and certification for our Panel Masonry
System. Our experts will guide you through the ins and outs of the technology, ensuring you
have the knowledge and skills to handle a diverse range of projects. Additionally, you'll receive
ongoing support, including marketing resources and networking opportunities within the
ClifRock community.
4. Expand Your Project Portfolio: As an Authorized Installer, you gain the ability to expand
your project portfolio with diverse outdoor features. From waterfalls and fire pits to outdoor
kitchens and retaining walls, the ClifRock system offers your clients a wide array of
captivating options. This versatility enhances your reputation as a contractor who
can tackle any outdoor living challenge with finesse.
5. Be Part of a Thriving Community: Joining the ClifRock Authorized Installer Program
means becoming part of a thriving community of outdoor living enthusiasts and skilled
professionals. Engage in knowledge-sharing, collaborate on projects, and benefit from the
collective expertise of like-minded contractors. The supportive network fosters growth,
inspiration, and camaraderie in the ever-evolving world of outdoor construction.
Take your contracting business to the next level with ClifRocks Authorized Installer Program.
Embrace innovation, differentiation, and ongoing support to unleash your true potential as an
outdoor construction expert. Join us and be part of a community that believes in pushing the
boundaries of outdoor living possibilities.
---
Tags
Contractor
ClifRock Panel Masonry
---