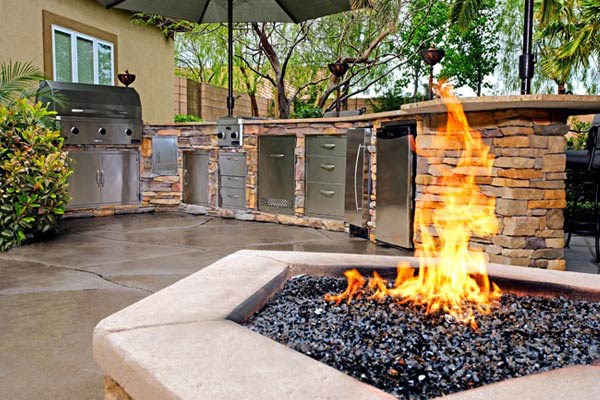 There is a lot to think about before making that official investment in upgrading your landscape with an outdoor living area and other backyard features. Although in the long run these investments can almost pay for themselves with the value they add to the home, they are still not cheap. And, if it is cheap…you need to find someone else because, well, you get what you pay for. So, it is important to know what to look for when hiring your local outdoor living space contractor and to be certain that the job is not only going to be done right but also be done with skilled craftsmanship, precision and quality.
Here are some pointers that we recommend homeowners watch for:
First, check out their reviews page on other social sites and media platforms. The most honest reviews can be found away from their website. But don't entirely judge the bad reviews, be sure to thoroughly read through the negative reviews, if any, and see if the company responded to the client's bad review with professional reasoning and an explanation.
Another criterion to look for is the contractors 'finished project photo gallery'. You can find this gallery on the contractor's website. An example of a solid gallery is our own which can be seen by clicking here. If the outdoor living space company you are considering does not have any reviews and has no photos of previous projects they have completed, you should probably look for someone else in your area for your backyard project. It is important to see the quality and the detail that the company puts into their work before investing into their outdoor living space services.
Next, see what they use to create their outdoor living spaces and their construction process. Ask yourself this, do they use traditional methods along with traditional materials to make their outdoor kitchens and water features? Any company that uses traditional, standard masonry methods with natural stones for outdoor kitchens or real boulders for their water features, is going to cause you a big headache during and after the process. Using these traditional methods and materials is…
Much more expensive.
Painfully increases the project completion time.
Requires an expensive heavy-duty footing.
Cannot be customized to what you envision.
Leaves you with post property damage, from the machinery and equipment, that you will have to pay extra for to fix.
Will require frequent future touch-ups and repairs.
But is there an alternative to this method and material? The answer is yes and ClifRock is the solution. ClifRock uses a 3-step installation system along with panel masonry technology to construct outdoor kitchens, boulder water features, pool water features, fire pits and even outdoor fire places. We use an engineered stone material that does not require any heavy-duty footing, can withstand the harshest external elements, is lighter weight and will never shift or displace and will never require any future touch-ups or repairs. Our panel technology also allows us to create custom designed outdoor living spaces and we can create our panels right on site for a quick, smooth installation. In just less than a week you can be throwing steaks on the grill! And yes, you can even select which grill and other appliances you want built-in to your outdoor kitchen since we can easily cut and manipulate our panels.
The method and material that the contractor uses is the most important thing to look for. ClifRock's alternative to traditional methods and materials eliminates the high costs, project time and headache while delivering top quality outdoor living spaces and entertainment areas.
We understand all of this can be overwhelming so we have made it easy for you to get in touch with a local installer that can be trusted and offer our ClifRock method and engineered stone material, just click here! All of our authorized ClifRock installers are thoroughly trained and factory vetted to deliver top quality outdoor kitchens, landscape water features, fire features and pool water features. All you have to do is tell your local ClifRock installer exactly what you envision and watch them bring it to life in as little as a week or even in a day depending on your requests.
---