With summer just around the corner, there's no better time to think about updating your backyard with that pool slide your kiddos have been begging for (friends too!). Waterslides add a level of excitement, even to traditional pools.
If hassle is a concern, then you will be glad to know that adding a slide to your inground swimming pool is easy so long as you follow the right guidelines. You will need to consider:
Pool Slide Location
Pool Slide Design
Pool Slide Installation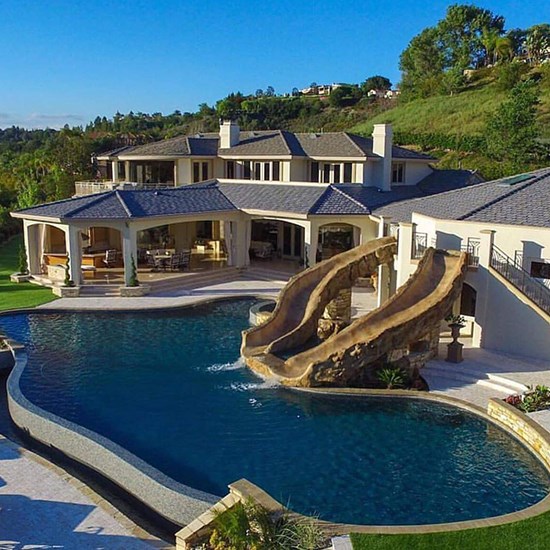 Find the Best Spot for Your Pool Slide
If you have enough patio space—an area of 7' x 15' on average—then you should have no problem adding a pool slide. You will also need enough space to easily walk around the slide, and ideally, enough space for people to line up as they eagerly await their turn!
Additionally, you should keep these things in mind:
Don't place your slide in the middle of the main gathering area of your pool deck or patio.
Place the pool slide on the opposite side of the pool from your main gathering place.
Make sure there is an easy exit point close to the slide, such as a pool ladder.
Slides must be installed over a water depth of at least 36 inches.
Choose the Right Pool Slide Design
Now that your location is scoped out, it's time for the fun part: choosing your slide. Before you do, double check the depth and shape of the bottom of your pool, just to make sure that the water is deep enough. Keep in mind that some slides angle to the left or to the right, so adjust accordingly. Other than water depth, there are two main things to consider when choosing your pool slide design:
Space: If you have ample space, you might choose a standard slide. If your space is limited, a helix, or spiral, slide could be best.
Staircase Safety: Molded leg slides have enclosed staircases, which is ideal for young kids. Straight leg slides have open staircases. Though less expensive, these are not as safe for small children.
Stay Safe!
Whatever pool slide you choose, there are some safety features to keep in mind. Choose a slide that offers the weight limit you need, avoid slides with sharp edges, and consider adding handrails.
Get Expert Pool Slide Installation
Pool slide installation requires careful adherence to the manufacturer's directions. You can grab a friend or two and have the job done in a single afternoon. Never attempt to install a pool slide on your own. Managing the weight of the slide as you move it into position is physically demanding, if not impossible, for one person.
Better yet why not hire locals that can help?
ClifRock makes backyard living fun with our custom-designed and quality fabricated pool slides and other pool features. We also provide professional installations that are fast, flawless, and backed by strong warranties. Get a Free Quote Now.
Become a Clifrock Panel Mason
Are you a pool company, contractor, landscaper or installation company? With ClifRock Panel Masonry, you can install exciting water features for less than the cost of traditional masonry. See if Panel Masonry is a fit for your company.
---
Tags
Adding Slide to Pool
waterslide
pool features
---