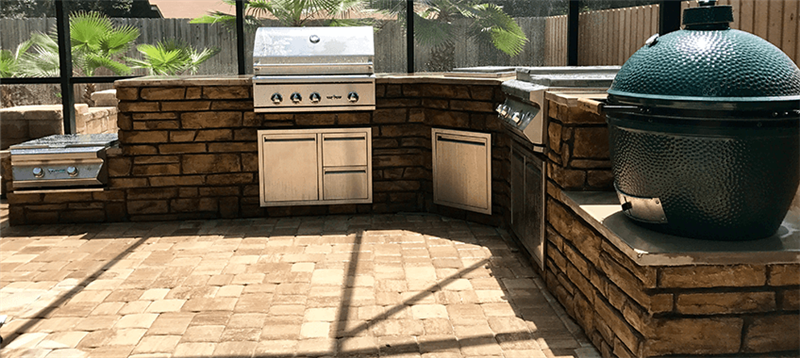 No matter what the climate is or where you are located, it is always grilling weather. From hamburgers to sausages and steaks, we can all agree that nothing makes meat more delicious than when it is grilled right at home with your secret, signature seasonings. But grilling, isn't just a fun side-hobby and it isn't just a better way to cook up some dinner, but…it is also a much healthier way to eat and can be better for you than going gout to eat, cooking on a frying pan or in the oven. Let's go over why grilling is better and the health benefits that comes with grilling that Compact Appliance's has concluded.
#1 GET THE MOST OUT OF YOUR VEGETABLES
According to Compact Appliance, also known as CA, explains that cooking Vegetables on the grill preserves more of the vegetables' vitamins and nutrients allowing your body to absorb more of these nutrients when ingested. And, you only get that delicious crunch with grilled vegetables!
#2 YOU EAT LESS FAT
Envision grilling meat on your grill; now envision cooking the same piece of meat on your stove top. The most noticeable difference is that on the grill the fat drips off the meat and through the grates whereas on the stove, the fat has nowhere to go so it floods the pan and causes the meat to soak it all back. And then…you eat all of that fat.
#3 RIBOFLAVING + THIAMINE = A HEALTHY DIET
CA has reported that riboflavin and thiamine, nutrients found in meat, are preserved in the meat better when grilled allowing you and your family to get the most nutrients from meat too. Sometimes cooking meat on the stovetop or in the oven can get kill these nutrients because it gets so hot that it kills the nutrients and vitamins.
#4 LEAVE THAT BUTTER INSIDE
'Grills don't rob the meat of moisture', states CA, like how cooking on the stove or oven does so you are less likely to smother butter all over your meat. No butter and juicy meat…. another reason why grilling in your outdoor kitchen is healthier.
#5 MORE TIME IS SPENT WITH YOUR FAMILY & CLOSE ONES
Hosting a BBQ for your friends or grilling tasty steaks for your family, your outdoor kitchen is the one place where everyone can gather, share memories and relax over a delicious meal. Life is short and the time spent with friends and family is more valuable than anything.
ClifRock's outdoor kitchens, specifically, have been proven to bring friends and families closer together along with creating the ultimate grilling and backyard entertainment experience. Why is this proven with ClifRock's outdoor kitchens and not just a regular grill on a deck with some chairs? Because….
Our outdoor kitchens can be custom designed.
We offer 304-grade stainless steel appliances from Coyote Outdoor Living that can be built-in to your outdoor kitchen that dramatically increases the cooking and entertainment experience for everyone.
Everyone will be more comfortable and enjoy their time outdoors when there is a proper seating area and a visually appealing setting; extending the duration of precious quality time.
Our outdoor kitchens and Coyote's grills and appliances can withstand even the harshest weather conditions so you can grill any time of the year and always fully rely on your outdoor kitchen!
Coyote's best-in-class grills will deliver the best tasting meats you have ever tried!
ClifRock's outdoor kitchens increase the value of homes where as throwing a grill on a deck… just doesn't do anything but take away the appeal of your landscape.
To learn more about how you can upgrade your backyard, increase the value of your home and start creating memories with your family and friends over the best tasting dinners, click here! Your backyard gatherings are about to be brought to a whole new level that you never thought was possible with your new custom designed outdoor kitchen and all within your budget.
---